TOP 5 OLDEST CHURCHES IN SAIGON
Hundred-year-old Catholic buildings in Saigon always preserve special cultural beauty that every Christmas we want to visit and check-in. Below are the 5 oldest churches in Saigon that Sazi compiled that you may not know.
TÂN ĐỊNH CHURCH
Tân Định Church (Hai Ba Trung Street, District 3), was built in 1870 – 1876. This place attracts domestic and foreign tourists because of its striking pink paint color, different from most Catholic buildings in Vietnam. The entire church has been painted pink on the outside and lighter pink on the inside since 1957. The overall church follows Gothic architecture, with many details in Roman and Baroque styles. Photo: Nitsawan Katerattanakul/Shutterstock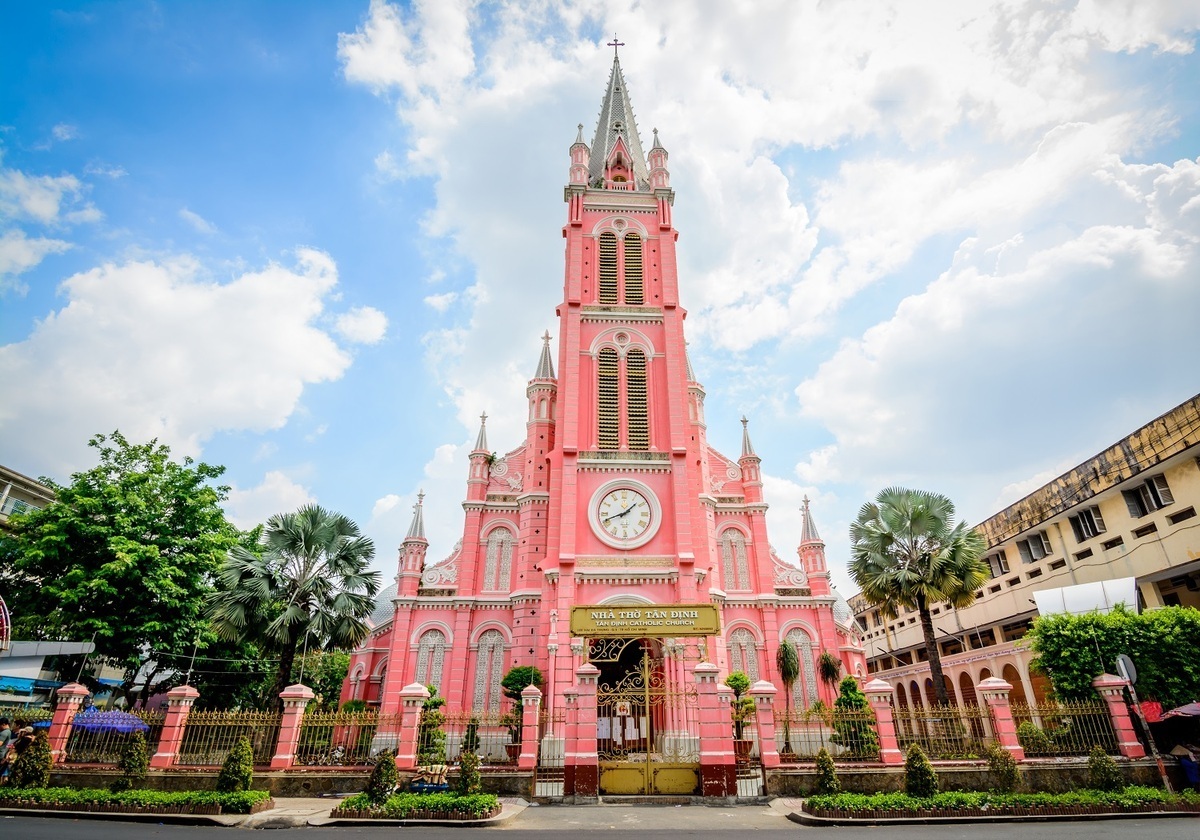 IMMACULATE CONCEPTION CATHEDRAL BASILICA – ONE OF THE OLDEST CHURCHES IN SAIGON
IMMACULATE CONCEPTION CATHEDRAL BASILICA (Paris Cong Xa Street, District 1), designed and constructed in the period 1877 – 1880, is a symbol of Ho Chi Minh City where visitors to the city come to visit at least once.
A special feature of the project is that all construction materials were imported from France, in which all the unplastered red-orange bricks still retain their color to the present. The two sharp peaks on the bell tower were added in 1984. They were once the highest places in the city at that time. Tourists considered them a landmark to identify Saigon from afar. Photo: Huu Khoa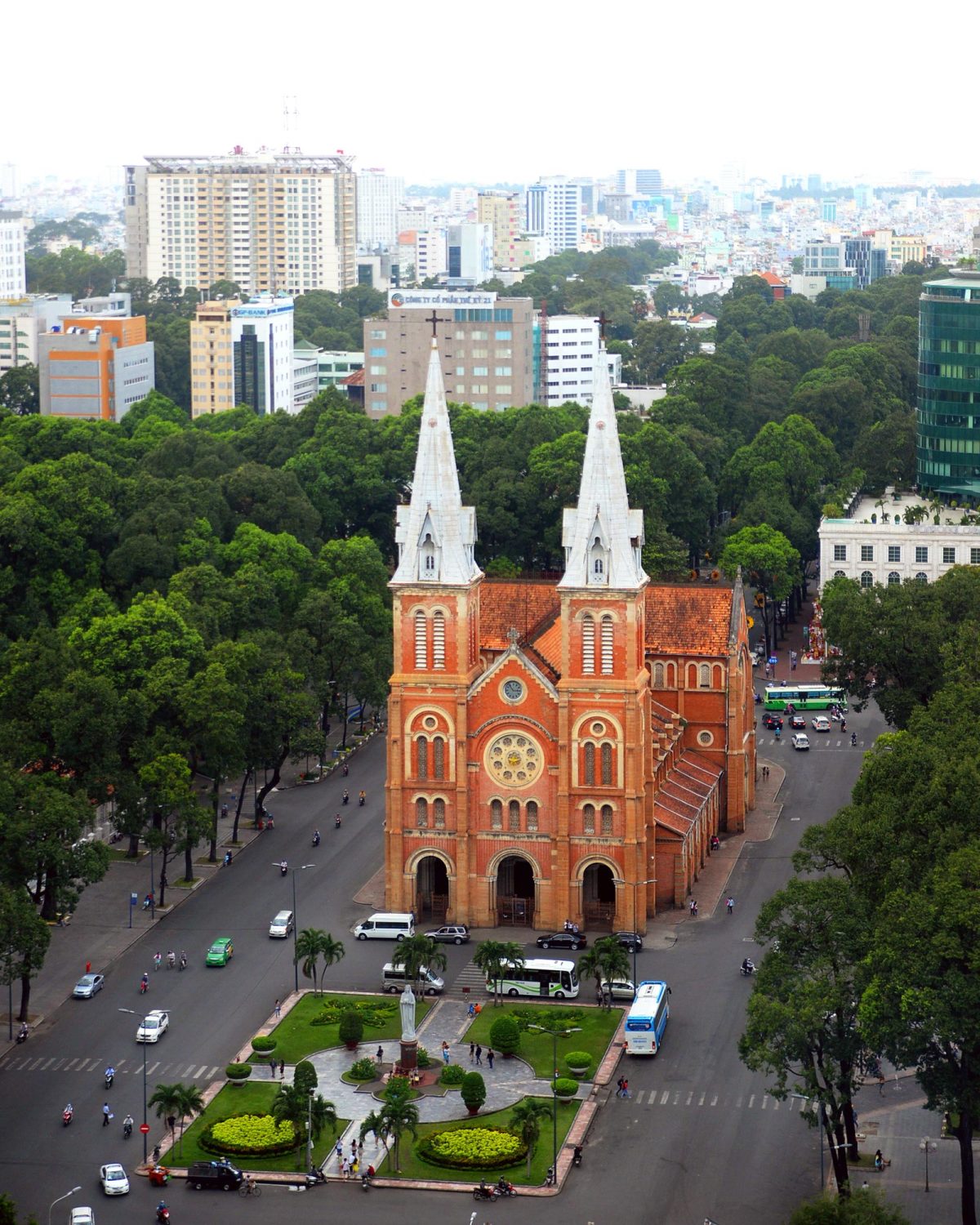 CHỢ QUÁN CHURCH
Chợ Quán Church (Tran Binh Trong Street, District 5) was founded as early as 300 years ago in Saigon. However, due to being destroyed by war and having to be rebuilt many times, the current church has Gothic architecture dating back to its new construction in 1882. Photo: Quynh Tran
TAM QUAN CHURCH
Tam Quan Church (Hoc Lac Street, District 5) was built in 1900 – 1902, for Chinese parishioners in the Cho Lon area to worship, using Chinese characters and language from past to present. The unique feature of this church is its mixed architecture of European and Chinese Gothic styles. Photo: Quynh Tran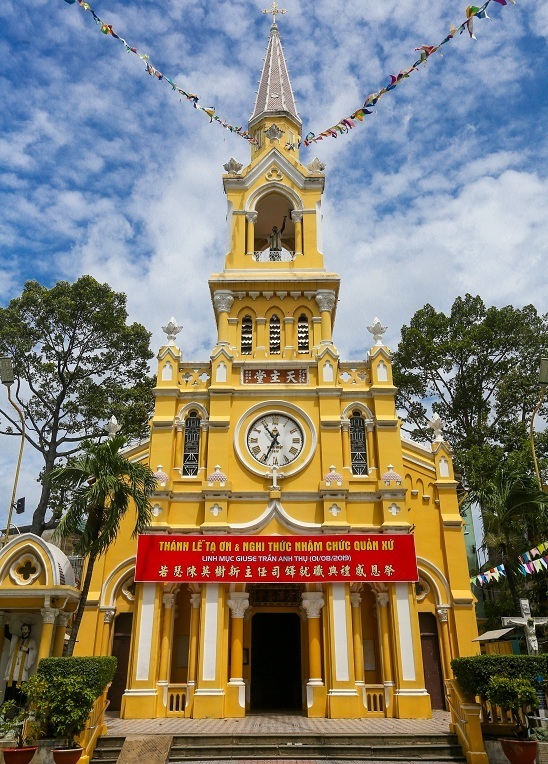 HUYỆN SỸ CHURCH
Huyện Sỹ Church, also known as Cho Dui Church (corner of Ton That Tung – Nguyen Trai Street, District 1) was formed in 1902 – 1905. The church follows Gothic architecture. Inside the tall tower there are 4 bells cast in France in 1905. Located in the center of District 1, this place is also an attractive place for visitors. Photo: Quynh Tran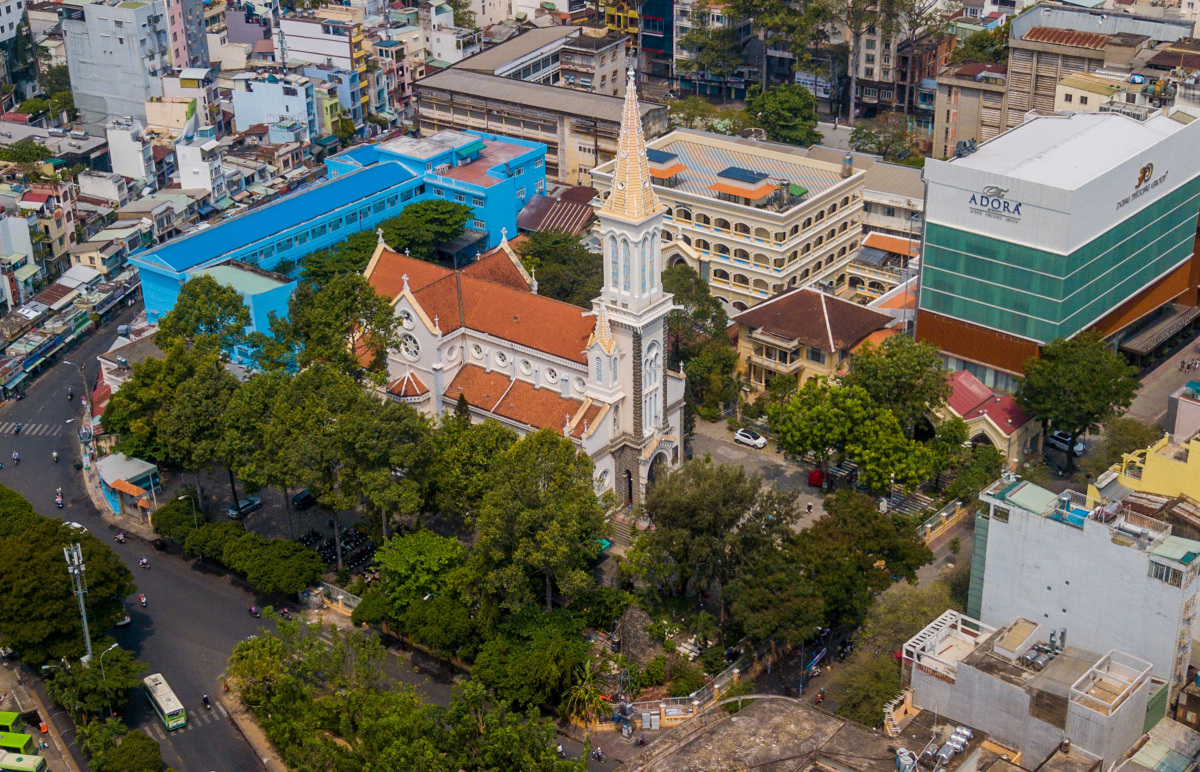 Do you have any plans to check-in at any church this Christmas? Save the list of the oldest churches in Saigon with Sazi now!