TOP 10 REPUTABLE HOTEL BOOKING APPS
As technology is increasingly developing, it is understandable that people are increasingly accessing applications when they want to book hotel rooms for travel. Reservation applications not only help hotels reach customers more easily, simplify the steps for consultation and booking instructions, but also help customers operate quickly, without having to go through hotel consultants. Below are 10 reputable hotel booking apps that everyone should not forget to save immediately!
1. Booking.com
Booking.com is the most popular room booking app today with a network covering more than 70 countries. Booking.com partners with thousands of hotels and motels from affordable to high-end. This booking app is known and used by many customers to book rooms for their vacation.
Booking.com has outstanding features such as:
• In-depth filters help find hotels quickly
• Preferential and competitive prices
• No advance payment required, no deposit required, dates can be changed or rescheduled easily
• Display room price details, no additional fees
• Commission fee when registering to sell rooms: 15%
• List any property in a few simple steps
• Displaying customer review scores helps increase booking rates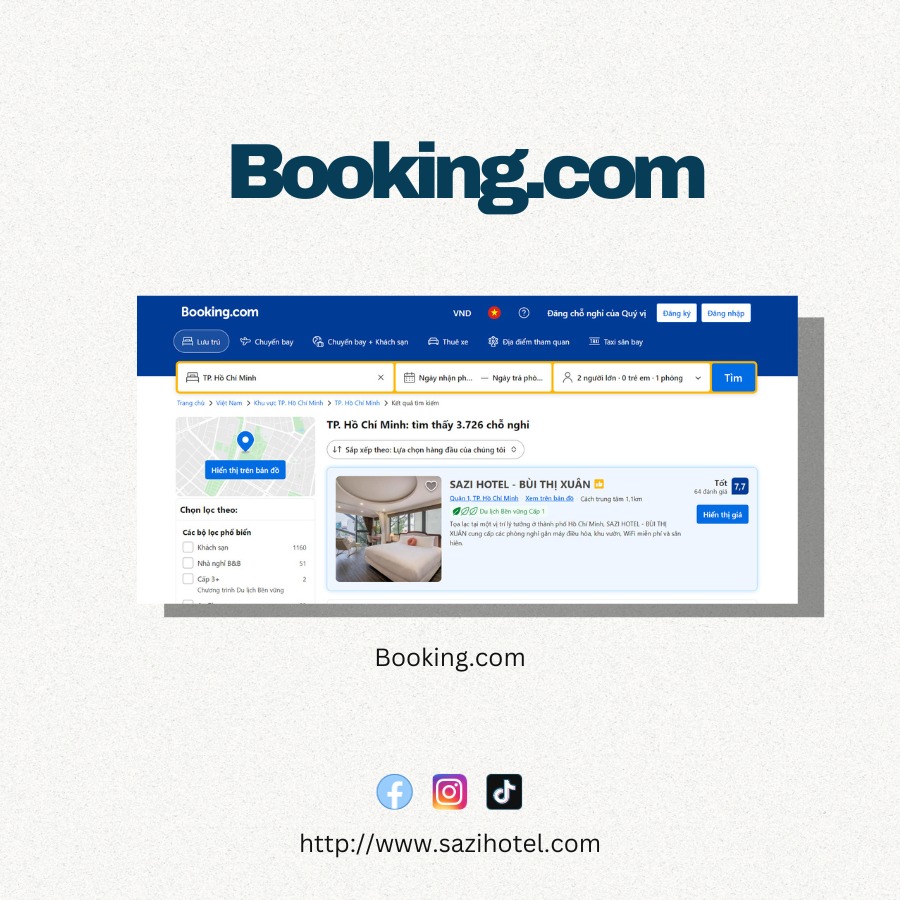 2. Agoda
Agoda is a cheap, popular hotel booking app and is trusted by many customers to book rooms. This is also a popular, reputable booking app in 110 countries, connecting more than 7,000 hotels in Asia and more than 33,000 hotels worldwide. Agoda has two forms of room sales: house, apartment, homestay or hotel rental, suitable for the affordable customer segment, young people who love to experience exploration.
Some advantages of the Agoda booking app:
• Most new room/rental listings will receive bookings within the first 3 months
• New listings will receive a special boost to increase visibility
• More than 9 million Agoda users around the world will see the owner's property
• Post information about hotels, apartments, private homes and many other types of accommodation for free on Agoda
• Get support through online documentation, YCS and Host Management support, email and chat
3. Traveloka
Traveloka is a popular hotel booking app in Southeast Asia. Besides booking hotels, visitors can also book flight tickets on this app. When registering to sell rooms on Traveloka, hotel owners can receive benefits such as:
• Connect with multiple channel managers to avoid double bookings. Easily manage room availability and rates at the different OTAs you participate in.
• Flexible payment methods suitable to the needs of hotel owners. Do you want to use VCC, bank transfer, monthly or weekly; We have reasonable options for you.
• Our Market Management team is always ready to guide and help expand your business.
• With 24/7 help from the Hotel Support team, Traveloka is always ready when hotel owners need it.
• There is a dedicated app for hotel owners as a "one-stop" platform, integrating all the features you need to manage your property.
• You can access TERA on desktop and mobile apps. Managing your property is now simple even when you're away from the office.
• Receive real-time notifications for every booking (including special guest requests). Managing reservations has never been easier.
• With just a few clicks, you can have full control over how to sell rooms on Traveloka.
• Opportunity to boost revenue with integrated advertising channels
4. Ivivu
Ivivu is also quite a popular booking app. This booking app offers many combos including air tickets, shuttle buses & hotel rooms. Some highlights of the Ivivu booking app:
• Travel guide with full information about famous tourist and resort destinations.
• Interesting, trendy experiences from domestic and foreign bloggers.
• A team of well-trained consultants, always supporting customers in all cases.
• Many promotional combos suitable for customers.
• Room sales connection commission fee: not disclosed, price according to agreement
5. Vntrip
Vntrip is a Vietnamese hotel booking application designed to be friendly to Vietnamese people. Vntrip provides more than 11,000 different hotel rooms throughout Vietnam. Besides, there are useful reviews for visitors to refer to and book rooms more easily.
Some outstanding features:
• Friendly interface, easy to use for Vietnamese people
• Provides many review articles about hotels and motels of business owners as well as scenic spots and entertainment venues near the hotel.
• Enthusiastic hotline support
• Free shuttle from the airport to the hotel
• Commission fee: negotiable price
6. Airbnb
Airbnb is famous for its accommodation sharing model between users, allowing hosts to post their accommodations for rent and tourists to rent houses, apartments, and empty rooms from locals. Airbnb creates a unique travel experience, exposing travelers to local culture and lifestyle.
Advantages of the Airbnb booking app:
• Cheapest commission fee, only 3% with very high booking volume
• Airbnb easily has long-term guests, from 4 days to a whole month
• Easy, simple and effective management on Airbnb
• Multi-language and currency, simple payment, support automatic translation feature
• Make sure customers pay in advance, Airbnb will protect the interests of the host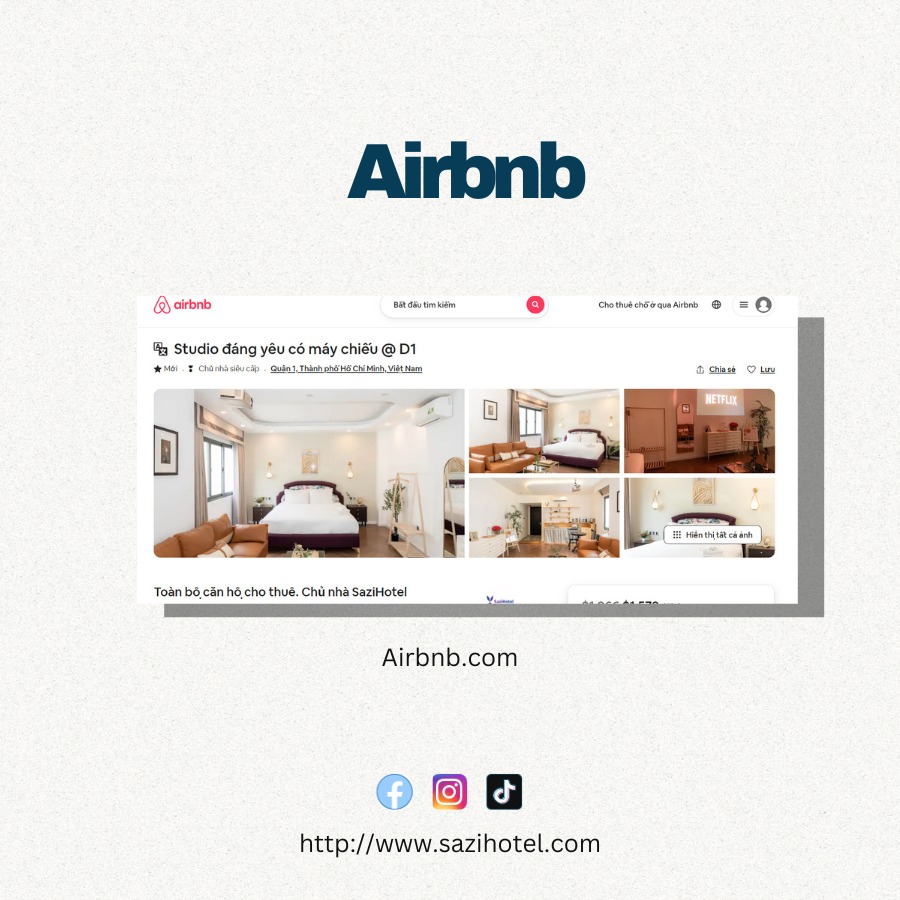 7. Trivago
Trivago is different from other regular hotel booking apps in that it has the feature to compare hotel room prices. This allows travelers to find the cheapest deal. With more than 400 linked hotel websites, a huge database of more than 175 million reviews and 19 million images, travelers using Trivago will have the most comprehensive overview of the place they want to go. been to.
Advantages of the Trivago hotel booking app
• Can compare prices between apps to get the most optimal price
• Friendly interface
• Room sales commission: depending on agreement
8. Expedia
Expedia is a comprehensive OTA channel, providing not only hotel bookings but also airline tickets, tour packages, shuttles and many other services.
• The platform has an easy-to-use design and integrates convenient booking management tools for accommodation businesses.
• Expedia often has attractive incentives and promotions to help users save on travel costs.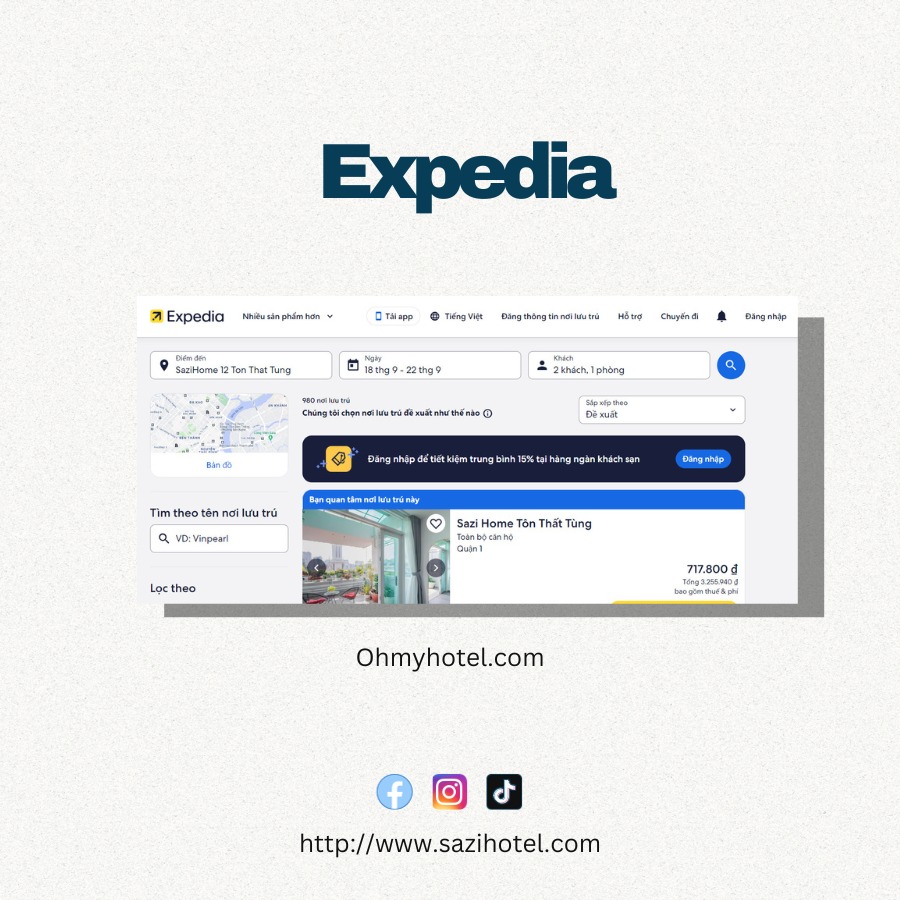 9. Mytour – Hotel booking apps
Mytour.vn hotel booking app is loved by many people because of its speed and affordable prices. Besides, the customer care team is always on duty to ensure users have the best experience.
Outstanding features of the Mytour.vn hotel booking application:
• Simple, convenient interface, suitable for all audiences
• Provide detailed information about the hotel
• Easily book cheap hotel rooms
• Update offers and vouchers regularly
• Diverse payment methods
• Commission fee: flexible discount levels according to the agreed room price
10. Quickstay
If you are looking for a cheap hourly hotel booking app, don't miss the Quickstay app! The application allows users to book hotel rooms by the hour or overnight at attractive and convenient prices.
Outstanding features of the Quickstay hotel booking app:
• Search and book cheap, quick and convenient hotel rooms by hour.
• Affiliate network with many domestic hotels.
• Diverse payment methods.
Sazi Hotel is available on most reputable booking apps and is highly rated by many people. Book easily and stay comfortably with Sazi!